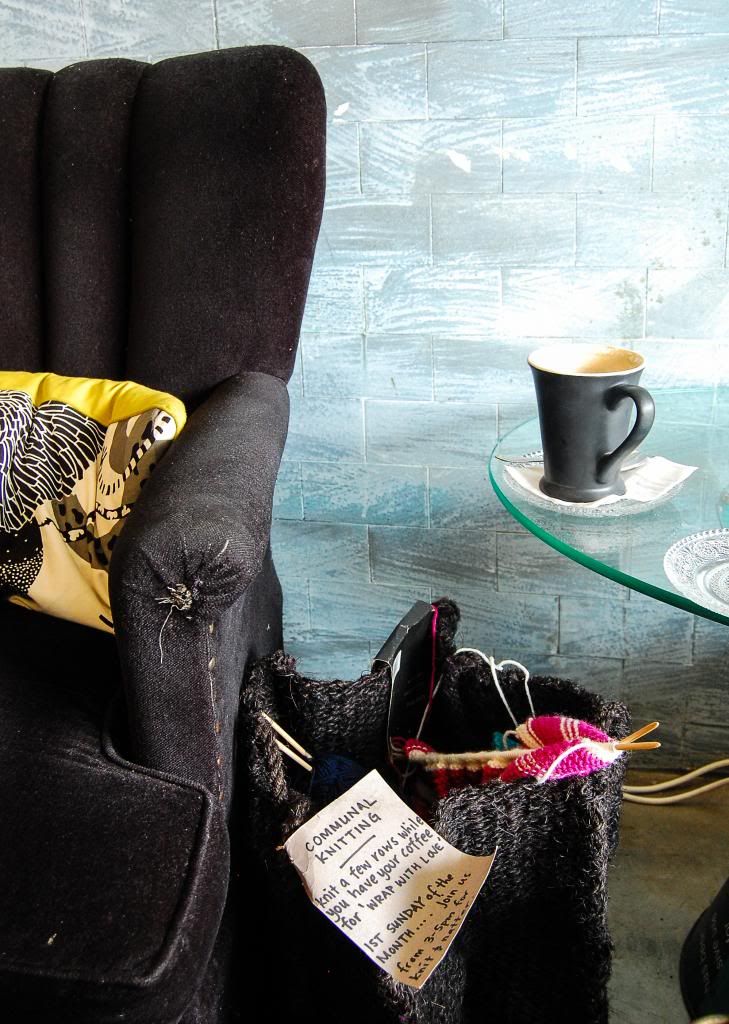 You have the day to yourselves. Just the two of you. You wonder the night before what to do. A whole day and no idea what to do. You end up having a little argument over it (yes, we argued at the prospect of a day together – the pressure!), and then someone suggests Mosman with a trip along the way to an art gallery. You feel instantly better. That's it.
(Because I wanted to surround myself with quality and culture for the day.)
Immerse yourself in the energy of what you desire – Hiro Boga
Here's what you do –
> Dress up. Both of you. Comfortable but wear something nice. Walk out the front door trusting and knowing that your children are well taken care of. And more than that, they're going to have a great day too.
> Drive and stop off in
Brooklyn
, a boating and fishing town north of Sydney, for coffee, cake and art. You might consider knitting a few rows, or you might prefer losing yourself in the art instead. Take it all in and just before you exit, your eyes catch sight of something that moves you to the point of tears pricking your eyes. (
Elephants
might do that to you too.)
> Keep driving till you get to Mosman. Parking won't be an issue, because you said so. There's one space near the shops with your name on it, and it's free.
> Spend ages in Vinnies, because op shops in affluent areas hold treasure. Treasure in the form of quality men's clothing for the same price as that coffee and cake.
> Then because you decided that morning you can't go on one more day wearing the same breastfeeding bras, you'll find a
lingerie boutique
and before you know it you're trying on bras that literally transform how you look, stand and feel. Ask for Naz who'll know your size just by looking at you and who'll make you realise that a really good bra, albeit an everyday bra, is a really big deal.
> Stop for lunch at
Fourth Village
, sit outside by the water fountain and with the soothing sound of Italian accents from all the waiters, you could well be in Europe. Try their delectable
misto mare
, an Italian seafood salad, talk about anything with the waiters (because you want more Europe), drink Birra Moretti then rush as fast as you can into their cheese room in the food store. Stand in the cheese room, both of you, and breathe all that cheese in, deeply. Accept any samples that come your way and talk cheese, then kick yourself for not bringing a little cool pack. Wander back into the providore, buy yourself a very reasonably priced bottle of balsamic fig vinegar, plus one more.
> Soak up all the clothes on the opposite side of the road. It might be beyond your means right now, but there's something about just feeling all that quality with your own hands. It's instantly uplifting.
> Head back to the car and drive a minute or two to Balmoral Beach, with views across to North Head and Manly. Sit underneath one of the old fig trees for shade, take a dip together, spend time exploring your camera, read and observe all the life going on around you.
> Because you don't want your day to end, you decide that you won't be home for dinner after all. You have your first bad thought of the day and think that Manly is a good place for a bite to eat. The tourist crowds and traffic have you heading back out again though. Instead, you come across a great little
burger place
in Crows Nest. And the best onion rings ever.
> Head home to find your children sound asleep. You're very grateful to the grandparents and that bottle of vinegar is very well received. You get into bed giddy with the thought of another day you've been offered. Just the two of you.
I wonder what we'll do.