Green and magenta... Spanish lavender and pink-stemmed Russian kale
A whole month has passed since I posted on
Facebook
that picture of sorrel, lettuce and a single nasturtium. Despite the fact I've neglected the garden these past few months, I realised when I looked at that salad bowl we had for dinner that night that there's still much to pick, and more importantly that I wanted to get back into that gardening rhythm I love so much.
So I've spent more time lately with my gardening gloves on. To begin with, I felt frustration and a heavy heart; I've lost two chilli plants, my passionfruit is out of control and its yellowing leaves are begging me for attention, the comfrey and cabbages are more holes than leaves, the garlic I planted in an old wheelbarrow is covered in aphids and my hardy herbs are being suffocated by weeds. Oh, hang on, the peas all burnt to a crisp too.
There's so much to do. But before I went down that all-too-familiar path of silent self-chastising, I remembered the words I wrote
here
in June.
No judgement, just observe... It's not a chore; it's here to support me.
And so for the past few days, I've watched bees dancing around the lavender and gazed at a Californian poppy swaying in the breeze (I just love these flowers!). I've picked bunches of spinach for a three-cheese cannelloni, I've tossed red oak leaf lettuce, wild rocket and nasturtium petals in zingy dressings, and I've filled seven jars with parsley and almond
pesto
(so good with fish).
I'm in the groove again. Spring is here and I want more of those lush salads and I want more goodness from my own soil.
Space in the garden beds has been filled this weekend with spring onions, tatsoi and more lettuce. I filled half a bucket with worm castings (I know I've said it before, but I get SO much joy from my worms) and brought to life a pot of dead soil for an early crop of tomato and basil seedlings.
I'm going to tackle one thing at a time, and make time each day for watering, feeding and a little tinkering. It's the tinkering that is beautiful in so many ways. Tinkering stops mole hills becoming mountains. Tinkering is soothing and has no goal.
I'll tinker at the garlic and hopefully beat those aphids and I'll tinker with the passionfruit so it might one day bear us some fruit.
In the meantime, there's plenty to eat.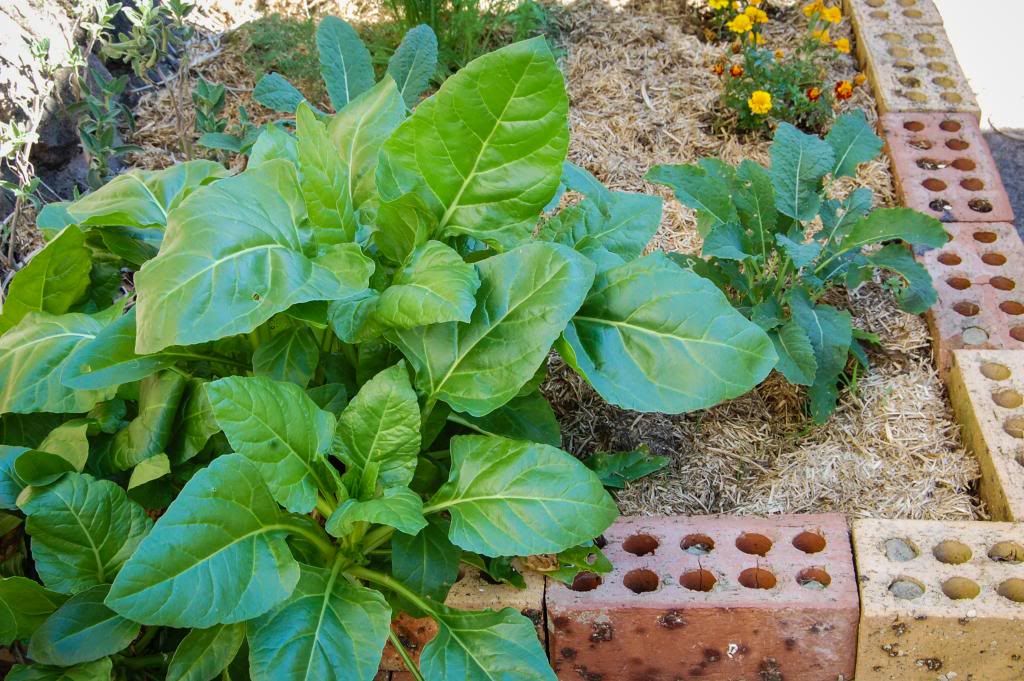 Green and orange... Coriander and marigolds, sorrel and Californian poppies
How about you? Is spring motivating you into the garden? Are you cursing those pesky white butterflies as much as I am? Any tips for a miserable potted passionfruit?